The Tiny Hawk, an elusive and little known bird of the tropics, drives many bird watchers to go on trip after trip to for a chance to spot this petite raptor. Only a few have been fortunate enough to spot one, which makes learning about its behavior and diet challenging.
Our knowledge of the Tiny Hawk's diet until recently was limited to old reports suggesting that Tiny Hawks specialized on hunting hummingbirds. Thanks to eBirders who archived their photos of Tiny Hawks in the Macaulay Library, researchers now have been able to mine digital archives to examine the diet of Tiny Hawks.
Alex Berryman and Guy Kirwan searched Wiki Aves, the Macaulay Library, Flickr, and various Facebook groups for photos of Tiny Hawks. They uncovered 684 photographs (278 that came from the Macaulay Library), 50 of which showed Tiny Hawks holding or eating a prey item.
Tiny Hawks, it turns out, consume a variety of avian prey that are nearly as big as they are. Berryman and Kirwan found prey items in photos that ranged in size from a 5 gram hummingbird (about the size of one U.S. Nickel) to a 65 g puffbird (about the size of 5 AAA batteries)—that's only 10 grams smaller than a male Tiny Hawk. Only one photo the team examined showed a Tiny Hawk eating a hummingbird. So while they do eat hummingbirds, Tiny Hawks also eat a variety of other bird species.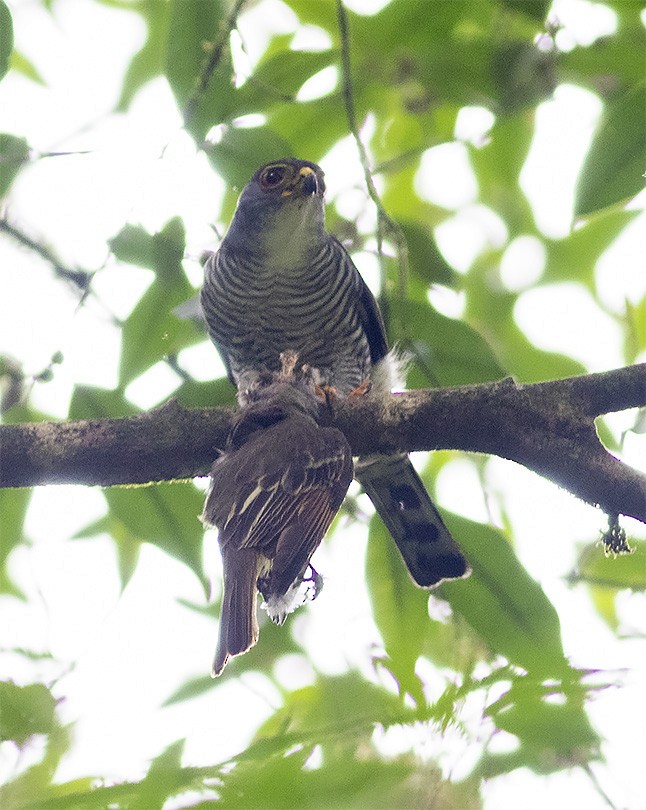 Berryman and Kirwan's approach to using digital archives to better understand the diet of birds is novel and one we hope others repeat. With more than one million photos in the archive, uncovering diet and more about the world's birds is just a few clicks away.
Berryman, A. J. and G. M. Kirwan. (2021). Is the Tiny Hawk (Accipiter superciliosus) really a specialized predator on hummingbirds? Using citizen science data to elucidate dietary preferences of a little-known neotropical raptor. Journal of Raptor Research 55:276-280