The sounds of species once common in Manhattan form the backdrop of a new art installation designed to evoke memories and highlight the impacts of habitat loss and climate change on our planet. Ghost Forest, a towering stand of 49 haunting Atlantic white cedar trees, designed by Maya Lin, an internationally recognized designer and sculptor, debuted this month in New York's Madison Square Park.
Lin is known for her large-scale environmental installations, architectural projects, memorials, and intimate studio artworks, including an installation at the Cornell lab of Ornithology.
The Atlantic white cedars that make up Lin's Ghost Forest were once plentiful on the East Coast, but their population has dwindled to below 50,000 acres due to historic forestry practices as well as threats posed by climate change. Sea-level rise and saltwater infiltration left acres of standing dead trees resembling ghosts of former forests in the Pine Barrens of New Jersey. These trees, slated to be cleared as part of a restoration project, now stand in Madison Square Park as a reminder of the losses that occur due to climate change.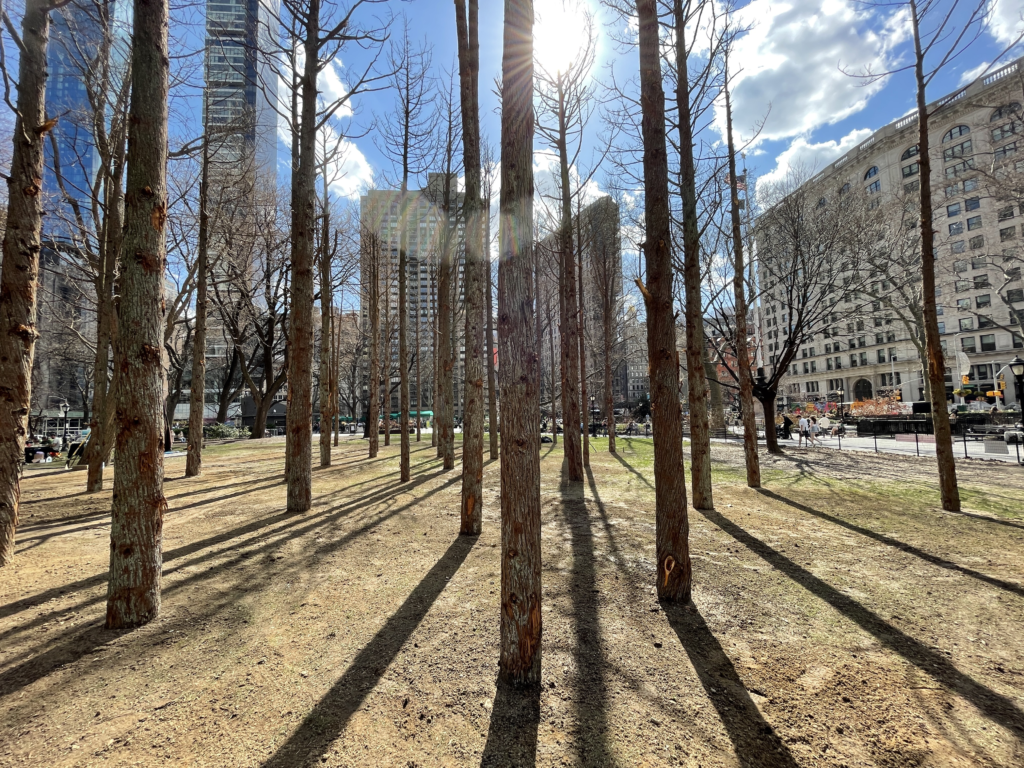 The towering grove of dead cedar trees stands in sharp contrast to the park's lush tree line while the soundscape featuring sounds from the Macaulay Library is a reminder of what once was.
Take a listen to a few sounds of animals once common in Manhattan.
"Lin's installation underscores the concept of transience and fragility in the natural world and stands as a grave reminder of the consequences of inaction to the climate crisis and poor land use practices. Within a minimal visual language of austerity and starkness, Lin brings her role as an environmental activist and her vision as an artist to this work," said Brooke Kamin Rapaport, Deputy Director and Martin Friedman Chief Curator of Madison Square Park Conservancy.
In addition to the installation, several public events, including lectures and concerts have been planned through the fall of 2021. The project culminates in the fall with the planting of 1,000 native trees and shrubs in public natural area parks throughout each of New York City's five boroughs. Learn more about the events and the installation at Madison Square Park Conservancy.