Setting up recording apps for iOS devices
Updated October 2018
Voice Record Pro
Voice Record Pro is a recording app for iOS mobile devices. We like this app because users can choose the exact settings that the Macaulay Library recommends, it's easy to use, and it has a good meter that lets you see the volume of your recording in real-time.
Voice Record Pro records in .WAV format and has advanced display options such as recording level, including a traditional LED meter and a rough waveform view. This app features an advanced mode that allows users to manually control the record level. Voice Record Pro also has several sharing and saving options. A paid ad-free version is available, but the free version contains all the most important functionality.
Settings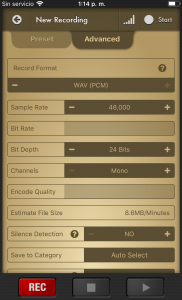 To configure the app, press REC. When you press the REC button, a New Recording dialogue appears. This is where you will pick your settings. Switch to the Advanced tab at the top, then change Record Format to WAV (PCM), Sample Rate to 48,000, Bit Depth to 24 Bits, and channels to Mono (unless using an external stereo microphone). The Record Engine should be set to Advanced so that you can control the input level manually. After these are all set, press the REC button to begin the recording.
When you apply your desired settings for one recording, the app will remember them for the next. Once the settings have been configured, select Settings—Recording and enable Instant Recording. This bypasses the initial settings screen and starts the recording immediately, saving you some time. If you want to change any of the default settings, you can always turn Instant Recording off and adjust them when you start a new file.
Recording tips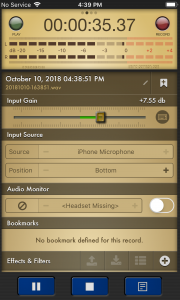 Tap the level meter at the top of the screen to switch it from the default VU meter to your preferred option. The LED option (shown) mimics what most digital audio recorders show, and the waveform option shows the overall level of your recording.
Using the Advanced Record Engine, you can increase or decrease the volume of the incoming sound. Pick a level at the beginning of the recording, such that your target sound peaks below the 0dB mark.
The app includes many other customizable options, such as renaming files and even in-app editing, but we recommend following the steps for preparing and uploading your recordings using a sound editing program.
File transfer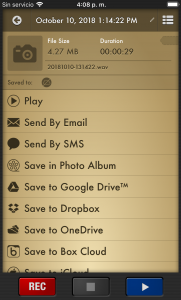 Transferring audio files recorded with Voice Record Pro to your computer for editing and upload is easy. When you've finished recording, you are immediately given a page with a long list of share and transfer options, such as Save to Dropbox, Save to Google Drive, Send Email, and more. This page can also be accessed for any recording simply by tapping it from the main list of recordings.