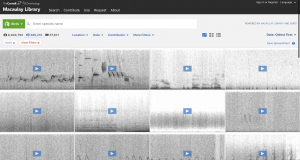 The traditional Macaulay Library archive contains over 250,000 digital audio and video recordings of birds, mammals, amphibians, reptiles, fishes, and insects from around the world. Users may request access to download media from the traditional archive (only catalog numbers less than ML 1,000,000) for research and some educational uses for FREE. For commercial uses, we require a licensing agreement. All mobile applications and some educational purposes, however, are considered commercial uses and require a licensing agreement. For all uses, we ask that you follow our guidelines for media attribution when using Macaulay Library assets. To request media, click on the button below, login, and follow the steps below. If you are new to the Macaulay Library follow the steps below to create an account. When you request media, please request specific recordings needed.
Request a license for commercial, research, or educational use.
Find requestable media
Looking for something specific? We can help you find media for the species you need.
---
Steps for requesting media
Step 1: Create an account or sign in
If you're a new visitor to the Macaulay Library (ML) and Cornell Lab websites, the first step in the request process is to create a new Cornell Lab account. If you already have a Cornell Lab account—from Macaulay Library, eBird, the Great Backyard Bird Count, or another Cornell Lab project—simply use your existing Cornell Lab account to sign in.
Step 2: Search for recordings and "add to request"
After you have signed in, you can select recordings and add them to your Macaulay Library cart in a few different ways:
1. Use the Macaulay Library search box to search for the common name or scientific name of an animal:
You can also use the button at the top of this page "Find requestable media". This filter can help narrow down the results to the traditional archive and can be toggled in the "More Filters" menu.
If you find a recording that interests you, click on the catalog number link to go to the individual specimen page. It's easy to find the catalog number link if you are viewing results as a list.
If you would like to request it, click "Add to request".

2. To request multiple recordings for a species, go to the "Add Species to Cart" page, type and select the species from the type-ahead list in the Species box, and then note the number of recordings needed or click "All Available."
3. If you already know specific ML catalog numbers that you would like to request, you can select catalog numbers (one at a time) on the "Add Recording by Catalog Number" page.
Step 3: Place order
When you are done selecting all of the media that you would like to request, go to "My Cart," and then click on one of the "Proceed to About My Order" buttons.
On the "About My Order" page, please use the "Usage notes" box to include details of how you intend to use your requested media. Then select the appropriate license options for your usage and include relevant contact information in the "About You" section. Next, note your "Needed Date" in the bottom left-hand corner. Many simple orders, such as research requests, can be prepared quickly, but please plan for at least two weeks to process an order. Finally, press "Proceed to Review My Order" in the lower-left corner of the page.
After reviewing the details of your order, click "Place My Order" in the top-right corner of the page. This final step formally submits your order. Once you have placed your order, you should receive a confirmation email from "Macaulay Library at the Cornell Lab of Ornithology" within a few minutes of your order. If you do not receive a confirmation email, go to "My Cart" and then "My Orders" to check on your order status. If your cart status is still "Active Cart," please be sure to perform the "Place My Order" step in order to officially submit the order.
Once your order has been submitted, we will respond to you within a few days, with an estimate of the licensing fee and studio fee, if applicable. You will not be charged until you approve the estimate and the order is complete. There is no charge for research requests.