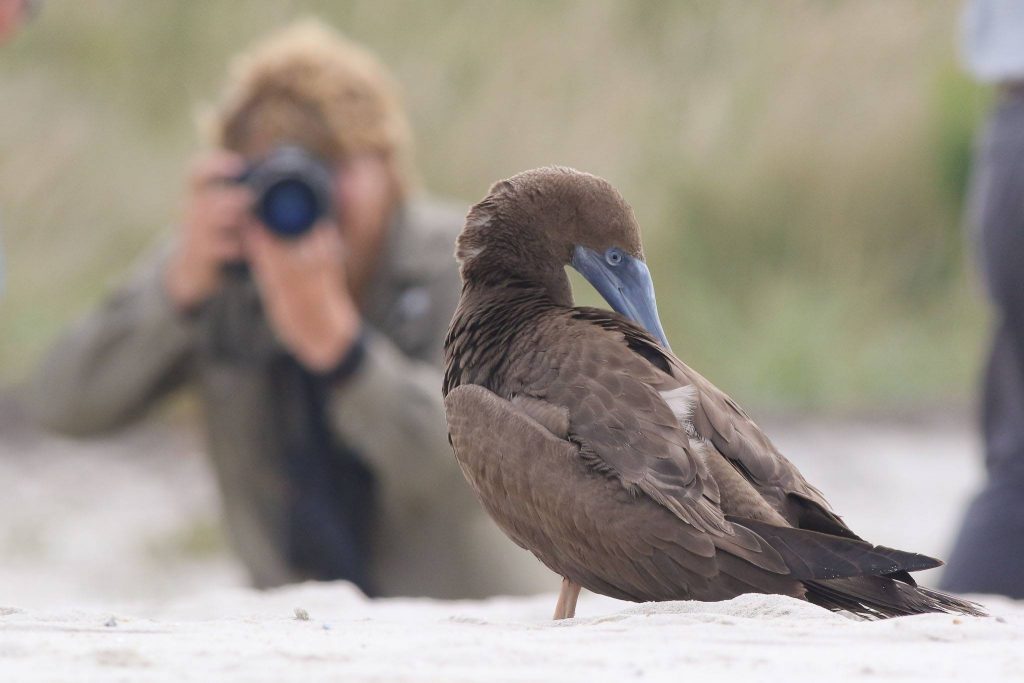 Related articles: Uploading Media; Rating Photos; Tagging Media; Audio Guidelines.
The Macaulay Library and eBird allow you to upload photos (and audio) directly to your eBird checklists, thereby archiving them in the Macaulay Library. When you upload these images to support your records, it not only provides our regional data-quality reviewers with excellent information to evaluate your observations of rare and unusual species, it also gives other birders an illustrated checklist of the birds you observed, making for a more enjoyable and informative experience when browsing eBird. Who doesn't like seeing more pictures of birds? Uploaded media provides valuable data for projects like MerlinVision, our computer vision project which helps birders identify the birds they've photographed and will play a large role in future data quality initiatives. Additionally, your media becomes part of a digital catalog of the birds of the world at the Macaulay Library. User photos also help other Lab educational projects to illustrate species accounts, including the Merlin Bird ID app, Birds of North America, Neotropical Birds, and All About Birds.
Quick photo guidelines
Upload photos for both rare and common species

Crop and edit your images before uploading, but try not to over-crop or over-edit

Upload your full-resolution images, as long as they are JPG and under 10 MB each

Refrain from adding a watermark or other text to your images

Add comments, metadata, and rate your photo after you upload it
Please don't upload composite images or back-of-camera photos

Upload multiple photos (up to 10 per species), but only if they are sufficiently different

Photos must be your own and adhere to the

media licensing agreement
Which photos should I upload?
For eBird review purposes, the focus is to document any sighting that is rare or unusual with a photo. This includes any species that is "flagged" during data entry. "Rare or unusual" can mean species that are either flagged as rare for the location or season, an unusually high count of a species that itself isn't rare, or a species that you consider to be unusual. Just as important for the archive are species that simply offer a good photo opportunity: a cooperative bird in good light, aesthetically pleasing images of common birds, and photos documenting interesting behavior and birds in their habitat. This means that we'd like photos for a first country record for Emperor Penguin, for a flock of 10,000 European Starlings, or just a great picture of a Northern Shoveler on the local pond.
Resolution, size, cropping, and editing
If possible, upload photos at their original resolution. eBird accepts images up to 10 MB in size in JPEG, PNG, and GIF (non-animated) formats.
High-resolution images are important because these photos are part of a permanent scientific archive and may be used for computer vision learning. Although images are displayed in checklists and search at a smaller size than most uploads, the full-resolution original image is stored in the archive.
Crop photos so that the bird is large and visible in the frame. However make sure to leave a plenty of "canvas" around the edge of the bird—having that buffer makes the image look nicer and leaves more room for adapting it later on. More cropping can always be done later, but there's no way to get additional information back. When cropping it's often good to keep more room in front of the bird than behind it to give the image a more balanced feel.
When editing, aim to make the bird look as it did in the field; please avoid over-saturation, over-sharpening, or augmentation of the image beyond what you observed in the field. The idea is to create a natural reproduction of how the bird looked in life. Many editing tools found in Photoshop can improve an otherwise backlit or hard-to-see image, but they can also result in very strange-looking birds; please use these tools sparingly. Similarly, avoid cosmetic Photoshopping like the removal of branches or other major changes. These artificially created images are not appropriate for inclusion in a scientific collection.
Multiple images of the same species
If you have several photos that show different parts of the bird or different behaviors or angles, uploading multiple images is encouraged (limit 10 per species). However, If you have multiple images of the same individuals only upload those that illustrate different angles or behaviors; photo should not be nearly identical frames from the same burst of shots.
In the checklist view, images will sort in the order in which they finish uploading. If multiple images are selected or dropped in at one time, they may finish uploading in a different order depending on the file size. If the order of images in your checklist is important to you, make sure that they finish uploading before adding more.
Watermarks and other text
Please refrain from adding any kind of text or watermark to your photos. As the photographer, your name will always be displayed next to the image. Watermarks and other text mar the aesthetics of the photograph, as well as make it harder for computer learning projects such as MerlinVision to use the images. Although not recommended, if you wish to add a watermark, please keep the watermark small and subtle. Additional text on the images including the species name, date, or location is unnecessary because that information always appears with the photo. Similarly, if your camera puts a time and date stamp onto the image automatically, consider disabling this function. The time and date are already stored in the metadata of the image and do not need to be displayed on the image itself. We also ask that you refrain from adding any kind of border around the photo.
Composite images
Please refrain from uploading composite images (images that include more than one photo). Each image should be uploaded separately.
Back-of-camera images
When you've photographed a rare bird, it can be tempting to take a shot of your camera's LCD screen and upload it to your eBird list for quick documentation purposes. While this can be a reasonable method of getting the word out in a hurry, please remember to go back and replace the placeholder images. Back-of-camera images are often are not high enough resolution to show critical details, lack important metadata such as date and time, and are not useful for projects like MerlinVision.
Non-bird images
Because each image you upload has its own stand-alone data record in the Macaulay Library, it is important that any image uploaded to a particular species actually contains that species. At this time we ask you to refrain from uploading habitat shots, pictures of your birding companions, scenery, etc. to your eBird checklist. We plan to add the ability to upload these checklist-level photos soon. Similarly, photos of animals other than birds cannot be uploaded to eBird at this time.
Rate images
After you upload your photo, rate the quality of the photo (1–5 stars). For guidelines on how to rate photos, see our photo quality rating page here. You can rate the images you upload, but they can also be rated by anyone signed into eBird through our community-based rating system.
Add comments
The comments section below the media is different than the comments attached to the photo. Media comments refer to that specific image, whereas the species comments refer to that entire observation, which is often not just the bird that you photographed. This is a subtle yet important difference. The media comments are attached to the image, the species comments attached to the observation.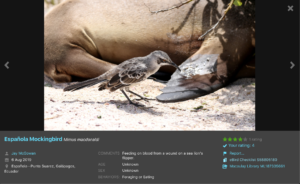 Adding comments to an image can provide specific information about the bird in the photo, whether to designate an individual among photos, or to provide comments on behavior, context of the photo, background species, or anything else worth mentioning about the individual image.
Add age/sex information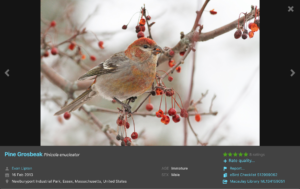 Additional information can be added to each media file uploaded to eBird. Right now, sound files offer more options for additional metadata, but you can indicate the age and sex of the bird in both images and recordings. It's important to remember that this photo or sound may be accessed away from the eBird checklist (e.g., as a stand-alone media specimen in the Macaulay Library), so the more information you can add to describe what's happening in the image the better. Age and sex should correspond directly to the bird in the image. If you upload a picture of an adult male Northern Cardinal, you should select adult for age and male for sex in the drop-down menus accompanying the uploaded file on the eBird checklist page. In many cases, you won't know the age or sex; in these cases choose unknown. In some cases, more than one age/sex combination is represented in the image. For these cases leave these dropdowns blank and consider providing further details in the comments section that accompanies the image.
Sharing checklists with photos
With the magic of eBird checklist sharing, if you upload a photo to a shared checklist, your photo will be visible in your friends' checklists too (even if it's uploaded after sharing), so there's no need for them to try to upload the same photo to their checklist. Only the person who took a photo can upload it for copyright reasons. If you were with someone and want to have their photo show up in your list, ask them to share their checklist, or share yours with them and ask them to upload their photos!
Changing identifications
To change the identification of a photo, click Edit Species on your checklist (not through Manage Media), then click Change Species next to the photo to change just that image, or next to the species to change the entire observation.
Multiple species in the same photo
Many images contain more than one species. Each image must be uploaded to one species at a time, but on the Manage Media page, you can use the Additional Species field to add these background species. If you have multiple photos that each emphasize different species in the group, feel free to upload these to different species as you see fit. Uploading identical photographs to two or more different species is not encouraged.
Have fun uploading your images to the archive, or get started exploring all photos from eBirders here.