The sounds of spring near your home bring the songs of familiar birds, from the sweet chatter of an oriole to the rollicking notes of a wren. The birds around us sing familiar songs, but now, imagine the world of bird song, all the crazy buzzes, trills, and musical choruses of birds from around the world. What if we could record bird song across the world in a single week and listen to a snapshot of bird sounds? Are you up for the challenge? Let's hear the world sing! Help capture a snapshot of sound to celebrate 90 years of archiving and recording bird sounds at the Macaulay Library. From May 18th – 26th, 2019, the Macaulay Library at the Cornell Lab wants your help recording bird songs and calls around the world. Grab your recording gear or your smartphone with a recording app and share what you hear on any day during this special week.
All you need to do is record the call or song of one bird from May 18th – 26th and upload it with your eBird checklist to participate in the first of what we hope will be an annual event. You'll also be entered into a drawing for a chance to win some cool prizes. Let's capture a snapshot of sound together.
To enter submit one qualifying recording with your eBird checklist between May 18th – May 26th, 2019. Recordings must be from the time period specified. Multiple recordings made during the specified time period are encouraged but do not increase your chances of winning. Winners will be randomly drawn from qualifying participants.
Grand Prize: RODE VideoMic Go with cold shoe pistol grip and adapter cables; perfect for recording with your smartphone.
2nd Prize: 1 Year subscription to the Birds of North America and an eBird hat
3rd Prize: $100 gift certificate to Bird Academy where you can choose from more than 10 different courses.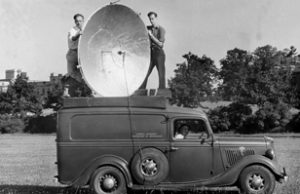 Why May 18th – May 26th?
Ninety years ago on May 18th, 1929, Arthur Allen and Peter Paul Kellogg were joined by the Fox-Case Movietone film crew in an attempt to record bird song. They hauled their heavy equipment out to Stewart Park in Ithaca, New York and tried to track down a singing bird. The film crew tried moving toward a singing bird only to have it fly off over and over again. Allen and Kellogg insisted that they train their microphones on a post and wait quietly for the bird to fly back to its perch and sing. Much to the surprise of the film crew, a Song Sparrow returned to the post, sat up, and sang. With their gear already in place, they recorded its bubbling song on film that they synchronized with motion picture technology. They also recorded the songs of a Rose-breasted Grosbeak and a House Wren that day. But unlike today's instantly gratifying photos and recordings, the team had to wait three weeks to find out if they succeeded in capturing the songs. After much anticipation, the sounds first aired in a short film called "Sounds of Spring" at what is now the State Theatre in Ithaca, New York. Although it may seem like a small achievement today, the short film was an important first step for sound recording and animal behavior studies. Two recordings from that monumental day can still be heard today in the Macaulay Library; take a listen.
The first recordings were gratifying, but Allen and Kellogg knew they needed to find a better way to record birds, as the equipment required was enormous and expensive—about $30,000! The Cornell Lab of Ornithology and the Library of Natural Sounds (now the Macaulay Library) continued to invest in new technology to improve sound recording. From the heavy, cart-driven equipment to today's handheld recording devices, the Macaulay Library has been carefully archiving animal sounds ever since. The Macaulay Library has evolved from manually archiving sounds on open reels to a digital repository with more than 60,000 contributors. The archive now contains more than 415,000 recordings of 8,832 bird species and counting thanks to contributors like you! Please join us in celebrating this important event by recording a snapshot of bird sounds.